19% of Americans do not go to the dentist because they cannot find one convenient to them.
As a dentist, this statistic probably disappoints you. But with the great technology we have today, you have the power to change this statistic and make sure more people see how convenient your practice is to them.
The solution? Dental advertising with pay-per-click ads.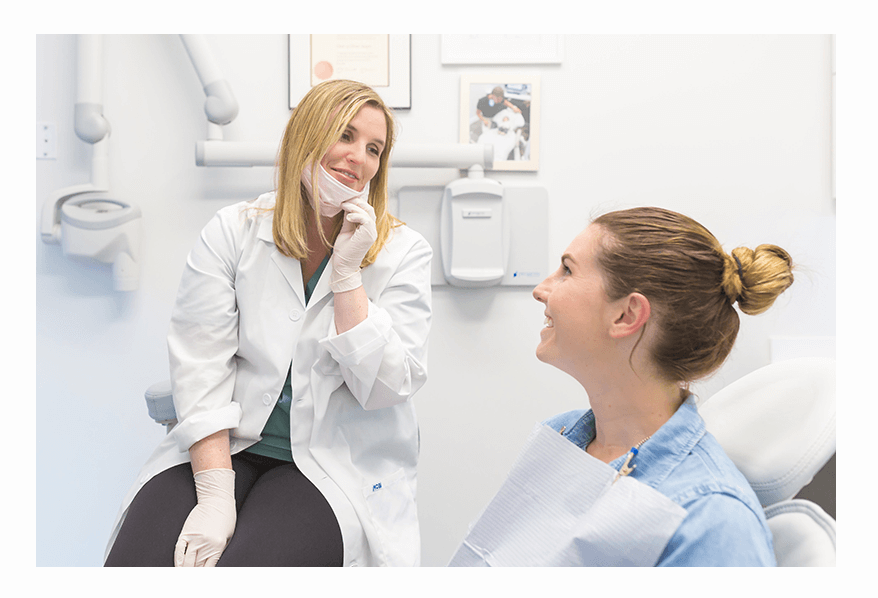 Fast Results
There's no need to wait for results when it comes to advertising with PPC for dentists. After your ads are created and published, they will begin running and instantly place your business on the first page of Google. You can quickly start driving traffic to your website's landing pages.
Increased Web Traffic
Dental PPC advertising helps drive traffic to your website so potential patients can view your services, team, and learn a little more about you. This increased traffic will also improve the success you see with your dental SEO efforts.
Brand Recognition
PPC for dentists allows your practice to take up more digital real estate with your ads, so you can be sure to have the greatest exposure and brand recognition for your practice and services you offer. The more often your ads are seen by more people, the greater presence your practice will have in their minds.
Dental Advertising with PPC for Dentists
Is your business showing up at the top of the page when people search for a dentist near them? If the answer is no, then you probably aren't running ads using PPC for dentists. You should be, and we can help you do that.
Contact our team of dental advertising specialists to get your practice showing as #1 today! You'll be glad you did.
Feel free to read more below about how dental PPC advertising can grow your practice tremendously (and fast!).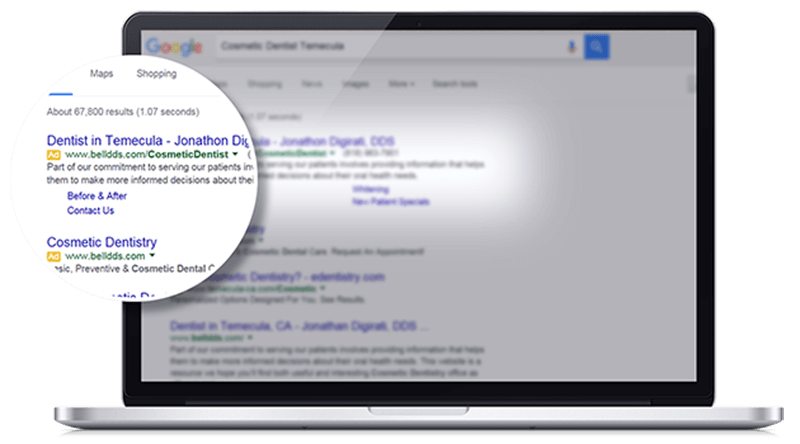 Why Your Organization Needs AdWords for Nonprofits
There are a multitude of reasons that your practice needs PPC advertising, but of the most importance to you is getting new patients. That's exactly what you get with dental PPC. We can control every detail of your ads to be sure to target the right people at the right time with the right message.
Quality Leads and Conversions
Pay-per-click dental advertising brings you the most qualified prospects and sees some of the highest conversion rates because you are able to manipulate the ads and target audience to exactly what you want in a prospective patient.
WHAT'S MOST IMPORTANT FOR SUCCESS WITH DENTAL PPC ADVERTISING
Strategy
During the strategy phase of your dental PPC campaign, we will determine who your target audience, ad budget, the maximum bid price for your ad campaigns, and the average value of a patient for your practice. These metrics will help us during the next phase of building your campaign.
Keyword Research
During the second phase of building your campaign, we will identify the best keyword opportunities for your practice that align with your audience, goals, and budget. We will also analyze your competition and the ads they are associating with similar keywords to ensure we target keywords that will give your practice the competitive advantage.
Optimization
After your ads are launched and running, we will track performance daily. We do not use a hands off approach or bots. You can rest assured that your dental PPC ads will be monitored and optimized by your dedicated advertising specialist each day. Our dental advertising services also include display remarketing. Once enough people have viewed your site, we will create and optimize display ads to capture possible lost leads and keep your practice top of mind so they will become your patient.
Reporting
When we set up your dental PPC ads, we also install conversion tracking so we are sure to get the most accurate reporting possible. Each month your ad specialist will send you a detailed report showing depicting your progress in ad rankings, ad relevance, cost per click, cost per conversion, and discuss budget usage and keyword opportunities that could further improve your ad deliverance and conversions. You can also choose to set up bi-monthly meetings to discuss your campaign.
WHY OUR DENTAL PPC SERVICES ARE YOUR BEST CHOICE FOR ADVERTISING
Industry Experience
Work with a company like ours that knows dentistry, has worked within your industry, and can help you grow into the leading community practice you are meant to be. Our extensive dentistry experience makes us the best choice when selecting a dental advertising firm. We promote your practice through consistent dental PPC best practices that get you the new patients you want.
PPC Specialists
You don't want to work with an advertising specialist that doesn't know the lingo of your industry or have experience in dental advertising. We know this, and we understand your concerns, which is why you don't have to look any further. Our specialists are segmented by department and industry, so you can rest assured that you will receive quality ads and attention to detail with our dental PPC services
Full Service Advertising
We are a full service dental advertising company meaning we not only offer dental PPC services for your business but also a multitude of other digital marketing services that will enhance the results of your PPC dental advertising efforts. Our clients often find that combining our dental PPC services with our SEO and website design services gets them a greater return. Contact our full service marketing team to get started on a successful dental advertising campaign.
We've driven THOUSANDS OF leads for clients through digital marketing.